Rumble Falls SSBB stage

A new stage has just been revealed on the official Super Smash Bros Brawl blog.
It's name is Rumble Falls, a tropical area based on Donkey Kong: Jungle Beat (a bongo game). As the fight goes on, the screen slowly scrolls upwards, so you have to keep climbing.

Be careful, this here's bat country.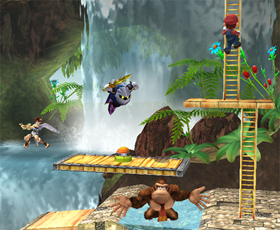 Good thing they have ladders in the rainforest.

Is it a plane?