Rumor: Disney Infinity 3.0 Leaked Early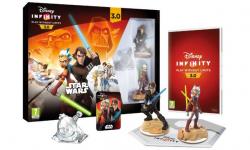 Straight from a Galaxy Far, Far Away...
A number of gaming sites have been posting images of what is believed to be the starter set for Disney Infinity 3.0 this week. Disney Infinity 3.0 looks set to feature a number of characters from the Star Wars universe, as it's packaging prominently features Anakin Skywalker and Ahsoka from Star Wars Clone Wars, as well as images of Obi-Wan Kenobi, Princess Leia, C-3PO, R2-D2, Yoda, and Darth Vader. The starter set includes figurines of Anakin and Ahsoka along with the Infinity Base, a Star Wars playset, and the Disney Infinity 3.0 game disc. As of the time of this post, Disney has had the image removed from a number of larger gaming sites, which seems to lend some validity to this leak. No platforms have been announced for 3.0, but the game is expected to be officially announced on Monday, May 4th.
With the upcoming release of Star Wars Episode VII, it isn't surprising that Disney would choose to focus on Star Wars for the third Infinity title. Last year's Disney Infinity 2.0 prominently featuring characters from Marvel Comics, which had been acquired by Disney in 2009. The toys to life craze seems to be stronger than ever and with Amiibo, Disney Infinity, Skylanders, and the upcoming LEGO Dimensions, there's sure to be a little something from everyone. Let us know below if there's any other Disney properties you'd like to see added to 3.0 in addition to Star Wars. We'll have more information, and the official 3.0 images, once they're made available from Disney Interactive, so be sure to check back for the latest on this story.