Samus whip recovery in SSBB

It turns out Samus can use her whip in Super Smash Bros Brawl as a recovery tool. Much like Batman and his... cable thing. Batarak! Batarat? Something like that.
Once she goes over the edge, with a flick of the whip she starts swinging. Then by retracting it she can bring herself back up, and return into the fray.

No! We're not going shopping again.

But we need more cushions.

You buy too many cushions.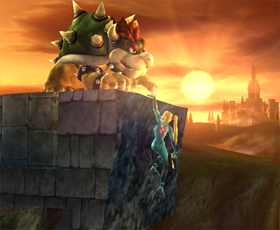 I'll start the car.
This kind of move isn't restricted to Samus either, other characters will have similar maneuvers.