Smash Bros. For 3DS Smashes Sales Charts, Wii U Release Date Announced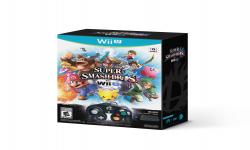 This game's winner is...
Nintendo has announced this morning that worldwide sales for Super Smash Bros. for 3DS has already exceeded 2.8 million units. These strong sales numbers for the first handheld outing for the Super Smash Bros. series are sure to help Nintendo have a strong holiday season. Not to stop at simply announcing the sales numbers for Smash on the 3DS, Nintendo has finally given us an official release date for the Wii U version of Smash Bros. Super Smash Bros. for Wii U will arrive in stores on November 21st with an MSRP of $59.99.
The news doesn't stop there either, as Nintendo added that the GameCube controller adapter for the Wii U will also support Wavebird controllers. This will allow Wii U owners to use the GameCube's official wireless controller for their Smash fix as well. The GameCube controller adapter will be available with an MSRP of $19.99, while a newly released Smash Bros. GameCube controller will retail for $29.99. Super Smash Bros. for Wii U is also receiving a deluxe edition that will include a copy of the game, the GameCube adapter, and a GameCube controller all for $99.99.
Are you excited to see the official release date for Smash Bros. on the Wii U? Have you already bought Smash on the 3DS? Will you be getting both versions of the newest entry in the series? Let us know your thoughts on today's news in the comments below.