Sonic turns 18
Eighteen years ago today, on June 23rd 1991, a blue ball spindashed its way onto TV screens all over the US and Europe - in the form of Sonic the Hedgehog on Sega Genesis / Mega Drive.
Despite troubling times (and some games that are frankly bad), the Sonic franchise has managed to sell over 50 million copies in total.
Happy birthday Sonic. The official Sega website is also doing a big giveaway to celebrate the event: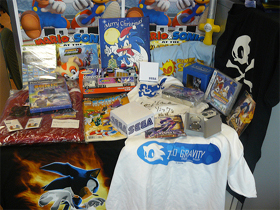 If you're interested in winning some of this merch, check out the rules.