Star Wars Pinball coming to 3DS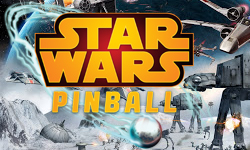 Use the Flippers, Luke
Good news for Star Wars and/or pinball fans who like their gaming on the small screen: Zen Studios has announced Star Wars Pinball 3D for the Nintendo 3DS!
This reworked version makes full use of stereoscopic 3D visuals and includes the following tables:
Star Wars Episode V: The Empire Strikes Back
Boba Fett
Star Wars: The Clone Wars
Star Wars Pinball 3D will be available from the 3DS eShop in just a week's time, on September 19th.
That's not all the Star Wars Pinball news either. Fans of the Wii U game can expect an expansion pack later this fall. Star Wars Pinball: Balance of the Force will include three new tables based around Darth Vader, Return of the Jedi (Ep VI) and a Starfighter Assault.