Star Wars Pinball from Zen Studios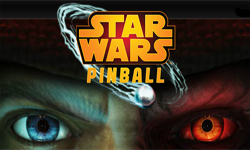 Question marks over Wii U version
An exciting announcement in the world of pinball has just come from Zen Studios, the developers behind the recent Wii U release Zen Pinball 2 and a selection of other games related to the silver ball. It's Star Wars Pinball!
Here's the announcement trailer, which looks great:
There is a potential fly in the ointment though. The platforms listed for release are:
Pinball FX2 on Xbox LIVE Arcade and Windows 8.
Zen Pinball 2 on PlayStation Network for PlayStation 3 and PlayStation Vita.
Zen Pinball 2 on the Mac App Store.
Zen Pinball on the Apple App Store.
Zen Pinball HD Google Play.
So that's every platform under the sun... barring Wii U. Zen Studios remain tight-lipped but teaseful (I know that's not a real word) on whether it will happen: