Super Smash Bros. 3DS Sells Over 1 Million Copies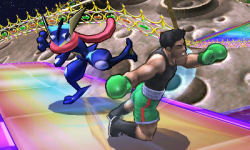 Accomplishes feat in only two days
Nintendo, unable to contain their elation, has already released the launch week results for Super Super Smash Bros. 3DS. To say that it 'did well' would be a huge understatement.
It was also confirmed by Nintendo to be the fourth 3DS game to reach one million sales in its first week (really, it was in two days, and only in Japan). That number includes both physical and digital versions of the game.
The three other games to accomplish this feat: Monster Hunter 4, Pokemon X/Y, and Youkai Watch 2.
While this is all good to hear, it still remains to be seen if the success of the 3DS version will be detrimental or beneficial to the upcoming Wii U version.
Super Smash Bros. 3DS will launch globally on October 3rd.