The Walking Dead tables coming to Zen Pinball 2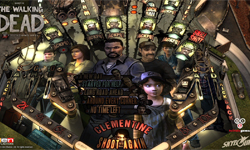 Pinball gizzard
It could be said that Zen Studios has neglected the Wii U version of Zen Pinball 2 of late, deciding to release certain DLC tables only on other consoles instead.
Today we have some good news though, The Walking Dead pack will be available on Wii U, starting August 28th.
Featuring locations like Clementine's Treehouse and Everett's Pharmacy, this DLC follows the downloadable game series by Telltale Games, and not the TV show.
---