Thimbleweed Park on Switch next Thursday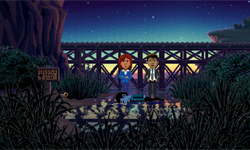 Party like it's 1987
The wait for Thimbleweed Park on Switch eShop, is almost over - an official announcement says it will be available on September 21st.
Thimbleweed Park is a mystery / comedy game from Ron Gilbert and Gary Winnick, the guys behind old-school adventures like Monkey Island and Maniac Mansion. The Nintendo Switch version will support both Joy-Con controllers and the touch-screen controls so you can easily switch between modes of play. It's priced at $19.99.
Check the Thimbleweed Park page for screenshots and a trailer!