Tomodachi Life does E3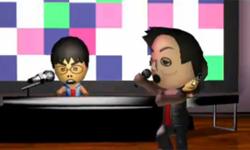 A game singing about other games
Tomodachi Life has become quite a hit with gamers so far, and there is even more coming from this game as some of Nintendo's most important team members are having their chance to give us some lovely sing along tunes to get us going through the day.
This video also has more to it as it concentrates on the brand new titles coming out from Nintendo - namely Splatoon, Captain Toad's Treasure Tracker and Yoshi's Woolly World. I anticipate a lot from these games, especially Splatoon, so attention will be drawn to these titles the more the days go by.
Anyway, I will shut up - watch this and enjoy. I still need to get Tomodachi Life.