Top Shot Arcade for Wii

If arcade-style shooters are your thing, Activision have a new Wii game aimed (a-ha) squarely at you. It's called Top Shot Arcade and comes packed with this cool looking rifle peripheral: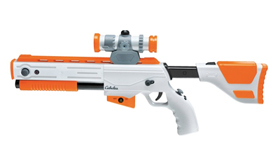 Top Shot Elite
It has pump-action reloading and everything! The Top Shot Elite also has an adjustable stock to accommodate different sized players.
"Players will have a blast with friends and family in the wild, fun competition of an arcade shooting game in the comfort of their own home. Top Shot Arcade is packed with arcade style action and over the top humor to keep players high fiving and laughing!" - David Oxford, Activision Publishing
High fiving and laughing, two crucial ingredients for any gaming session. As seen in the trailer below :/