Watch Dogs ebook revealed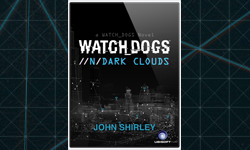 //n/Dark Clouds
Publishers Ubisoft have announced that an ebook called "//n/Dark Clouds" will release alongside their game Watch Dogs next month.
Intended to add depth and texture to an already highly detailed game, this ebook is set in the same world as Watch Dogs, but tells its own separate storyline.
John Shirley is the author behind this work, a well known writer in sci-fi circles. It's coming out on May 27th and if you're interested to know more, check out the official page at www.watchdogs.com/ebook.