Which Nintendo character are you?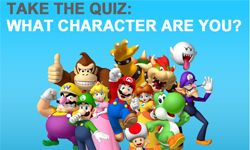 Are you a man or a bob-omb
Over on the official Facebook page, Big N are offering gamers a fun quiz. Take it to find out which character from the Nintendo universe you actually are.
As is typical, the quiz asks you to 'like' the page before you start, but then you can get going.
---
As it turns out, this is me:
Based on your choices, you are:
KAMEK
You're a serious genius and often misunderstood. People don't give you the credit you deserve because they simply don't understand the power of your mental capacity. Blah-those people should be turned into blocks anyway.
Sounds about right! Any Kameks in the house?