Wii getting Crash Bandicoot

It seems like Crash Bandicoot is set to make his Wii debut in a new game called Crash of the Titans. Said to be a Nintendo exclusive, the game will be available on Wii, DS and GBA. Expect it to hit the shelves in October.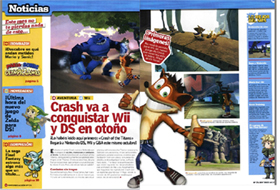 Crash of the Titans scan.
Note Crash's slightly different hairstyle. The times they were a changin'.