Wii Fit on sale in Japan

Wii Fit officially went on sale yesterday morning in Japan. Lengthy queues were formed at stores selling the game, as seen below at the Yodobashi Kichijoji around 9:30am.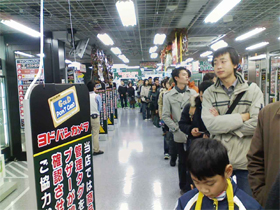 Smile, you're famous.
What strikes me is that none of these people look particularly overweight. The fit get fitter, the fat get fatter. Such is life's cruel cycle.