Wreck-It Ralph trailer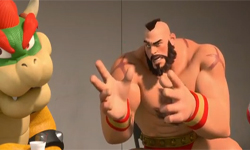 You are bad guy
Who knew, Wreck-It Ralph, the upcoming Disney movie has video games as a central theme. It follows the adventure of Ralph, a former gaming villain determined to change his ways and become a hero.
Here's a fun trailer, featuring cameos from our favorite baddies Bowser, Dr. Robotnik, a ghost from Pac-Man and... Zangief. I don't know what makes him a bad guy - because he's Russian??
Wreck-It Ralph hits the US next month, while Europe has to wait until January.