Xenoblade's Shulk Officially Confirmed in Super Smash Bros.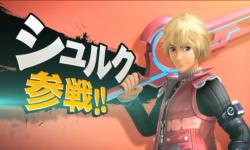 It seems that leak was real
During today's Japanese Nintendo Direct, Shulk of Xenoblade Chronicles was official confirmed as a playable fighter in the upcoming Super Smash Bros. for 3DS and Wii U.
The existence of the character was leaked last week in a set of videos, which were quickly pulled from the web. Nintendo has not commented on the authenticity of the videos. However, today's reveal suggests that the leaked footage was real.