Zelda car for sale

A listing on Craigslist shows that the well known "Zelda car" is up for sale.
For a sum of $500 (rupees not accepted), the buyer gets a 1978 Ford Fairmont with 110,000 miles on the clock and a detailed map painted across the top. The brakes, tires and shocks are all new, but the paint job needs some work.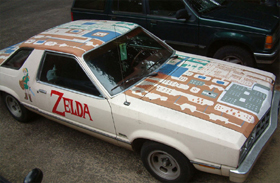 The owner is based in Corvallis, Oregon.