Wiimote found inside dog

A three year old Labrador Retriever belonging to the Becknell family of Loveland, CO caused alarm when it began coughing up blood.
On taking it to the vet, an X-ray revealed a large mass in the dog's stomach. After administering Syrup of Ipecac it began to vomit. Lo and behold out came a Wiimote. Marie Becknell commented:
"The Vet started massaging the dog's belly and it just came flying out. I knew what it was right away by the color and shape of it. It was my son's video game remote".
The dog later made a speedy recovery.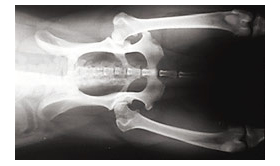 Wii remote swallowed by dog.