Pushmo World review
Just as good as its 3DS counterparts

Review written by
Zak Murkin
June 27th, 2014
Pushmo World (known as Pullblox World in Europe), is the third game in the series of cutesy puzzle games from Intelligent Systems. This is its first outing on Wii U after two fantastic 3DS games.
You play as Mallo and the aim of the game is to save a child stuck in each level. You do this by pulling out three dimensional blocks and trying to reach the top of the stage. The game starts you out easy with some basic tutorials, but as you progress through the levels the game gets considerably more difficult. This is one of Pushmo World's biggest strengths, the game has absolutely fantastic pacing and even with its considerable challenge it's always fair to you and when you finally beat that stage you've been stuck on for thirty minutes, it's a great feeling of accomplishment.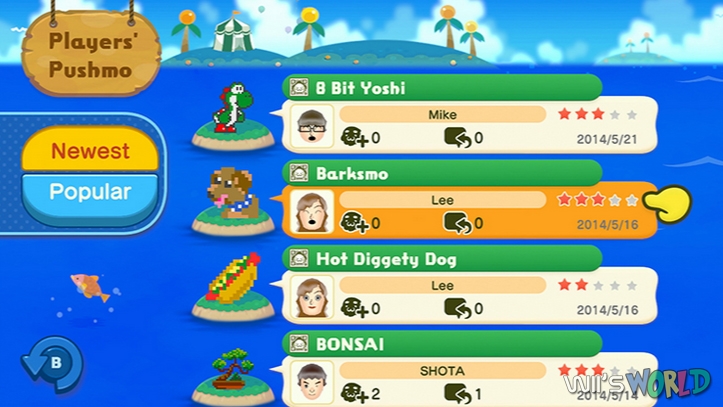 The level design in Pushmo World is excellent, one of the main highlights being the 'Murals' section, where the level is designed like an object or an animal. This is the icing on the cake to the already fantastic level design, scaling a giant squirrel puzzle is just as fun as it sounds. On top of the 200+ levels, the game adds a new 'Training Area' - designed to help you get better at the game and while these levels also get more advanced and difficult as you progress, they do not get as difficult to the extent of the normal levels. However, it's still a great addition to the game overall.
Where this game shines the brightest though is the 'World Pushmo Fair' option. This will take you online to custom levels created by people all over the world. The levels designed by players are truly outstanding, some examples being an NES Mario Kart sprite, the Duck Hunt Duck and a Dr. Mario sprite. There are literally thousands of levels to play here, this adds so much replay value to the game that it makes it easily worth its $9.99 price tag. You can also create your own levels in the 'Pushmo Studio' mode and upload them for other people to play and rate.
The art style of Pushmo World is absolutely beautiful, everything is brightly colored and it matches the game's themes perfectly. That being said, the actual graphics are weaker than a lot of other Wii U titles. This is definitely Pushmo World's weakest area overall.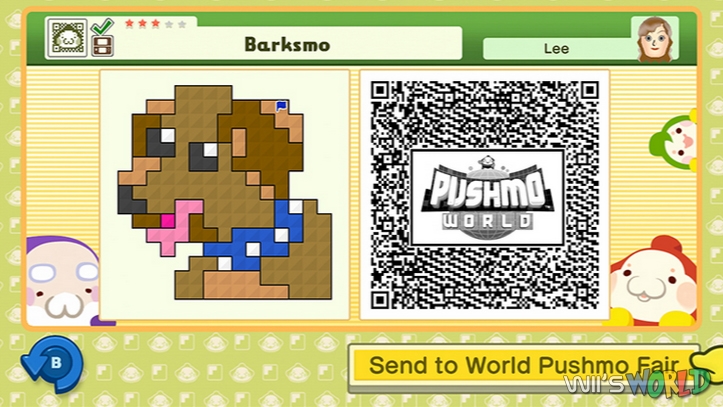 The music in Pushmo World is brilliant with a lot of memorable upbeat tracks which really capture the style this game was going for. What makes it even better is that the game has a music player where you can listen to any track at any time you want. Sound effects when Mallo jumps and walks are also a really nice touch.
Overall, Pushmo World is a fantastic puzzle game that is just as good if not better than its 3DS counterparts. It's easily worth the incredible $9.99 price tag and it's worth your time. The gameplay and sound are fantastic and the online level sharing will keep you playing for hours. Pushmo World is a fantastic addition to the Wii U's 2014 game lineup.
85%
Gameplay:

Graphics:

Sound:

Lifespan: