Need for Speed: ProStreet user review
ProStreet puts NFS back on the map.

Review written by
Randolph the Grey
Many people were disappointed with the lackluster title Need for Speed: Carbon. Not to worry; ProStreet is better than that previous title in almost every way. If you're hungry for a racer, then this is it.
Graphics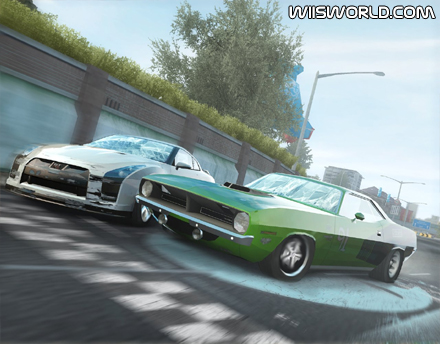 Many people will notice when starting this game that the graphics are beautiful. These are obviously some of the best on Wii. The detailed tracks, the marvelous cars... there's nothing to not be liked. There's not much detail that I can go into here, because there's nothing bad.
However, I can lavish praise upon the crash animations when you total your car, especially in Speed Challenges. Watching all of your hard work go spiraling in the air falling apart is just as horrifying as getting decapitated in Resident Evil 4. Speaking of which, I believe this game may even surpass Resident Evil in terms of graphics. Would you believe it? This is one of the only Wii games that is obviously not a GameCube game.
Sound
The music in the game is pretty good, although some of it is questionable. That's my personal opinion, and I try to steer away from opinionated problems. Some songs I dislike, but there are just as many people who will like it. It's basically just the licensed hip-hop/punk soundtrack they've been using in Need for Speed since the beginning.
More impressive than the music is the sound of the cars. The rev of engines and the whisper of your shifting add greatly to the gameplay. The sounds of your car being mauled by obstacles almost jerks tears from your eyes (especially when you have it upgraded about as much as possible and you total it). It's really nice.
Gameplay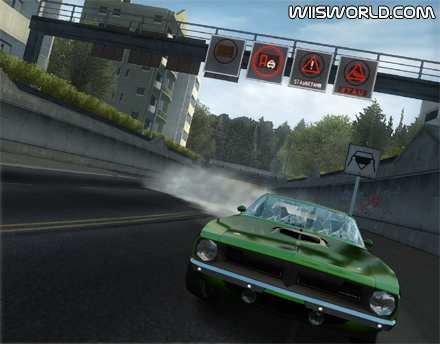 I bet most readers look back upon the default control scheme of Carbon with disgust. The tilt controls at the time were terrible, and I quickly had changed them. Many of you will flinch when you read my next sentence, so brace yourself - I mean it - The only control scheme available in ProStreet is the sideways Wiimote tilt option. Catch your breath. They've actually hit the nail on the head. The control is perfect.
You find yourself much more involved in the game when you're soaring at one-hundred-and-fifty miles an hour and hit a ninety degree turn. You'll gasp and jerk your arms to the side like a wheel. It only adds to the gameplay experience. You'll enjoy it, trust me.
The customization options are just ridiculous. You have so many aesthetic options, and so many performance options available, you'll find yourself low on cash most of the time. Like I mentioned earlier, you'll likely grow attached to your expensive vehicles. It just shows how much better this game is than its predecessors.
Lifespan
You'll likely play this game for a long time. There are so many cars, customization options, and deep multiplayer offerings that you'll likely forget that this game lacks online multiplayer that the other platforms support.
Didn't catch that, did you? This game has no online support. But it doesn't matter, as this game is deep enough to keep you enthralled until the next chapter of Need for Speed comes out.
Summary
This game is obviously purchase-worthy. It is the best racing game available as of yet, and you'll enjoy every second of it. The lack of online is disappointing, but it's obvious that the developers tried to make up for it my making the local multiplayer deep, and the single player some of the most polished that you can find. I recommend this game to both hardcore gamers, who'll enjoy the deep single player, and the casual, who may find much fun in the wealth of multiplayer options. Now I only hope that the next game is this good.
96%
Gameplay:

Graphics:

Sound:

Lifespan: