Oyen Digital MiniPro Hard Drive review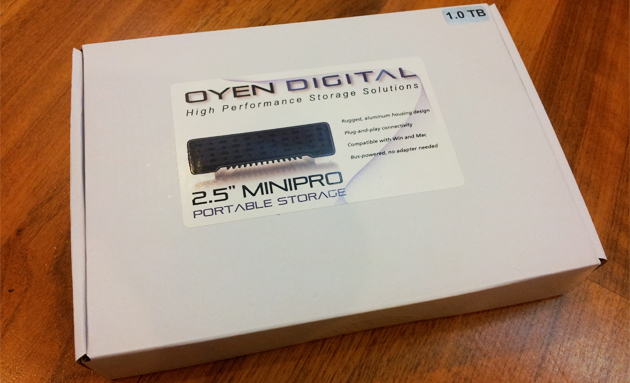 The Wii U eShop may not be packed with desirable titles to download just yet, but its library is gradually growing. If you bought a basic white console with less than 8Gb of space like me, storage is probably already an issue.
Oyen Digital came to my rescue, and sent a MiniPro Hard Drive for this write up. On opening the box, the first thing that struck me was the small size of the drive. At 3" wide by 5" long, it lives up to its 'mini' name tag and bares little resemblance to the drives of your daddy's era. It's housed in a sturdy metal shell, which makes it suitable for taking on journeys if that's your intention.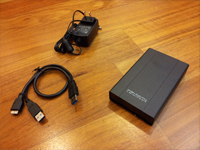 Oyen's MiniPro drive comes in a variety of capacities - 500GB, 750GB, 1TB and 2TB. To my way of thinking, 500GB would be sufficient for all but the most fanatical of eShop downloaders. I'm testing the 1TB model though.
Hooking up the MiniPro couldn't have been more straightforward. Inside the box is a USB Y cable (like a regular cable, but one end is split into two) and a mains adaptor, which is optional. For neatness sake, I decided to just use USB - the split end of the cable plugs into both USB slots on the back of the Wii U, then the other end goes into the drive.
After powering on for the first time, a brief menu sequence tells you your newfound space needs formatting. With an empty drive, this process is almost instantaneous. Then you're good to go. The new storage device integrates seamlessly with the Wii U interface and operations, in fact you wouldn't even know it was there, but for a small blue HDD icon on the left side of the home menu screen. The Wii U decides how and when to use your hard drive and the whole thing is very transparent. If you do wish to play around with the data, it can be accessed via System Settings and then choosing Data Management.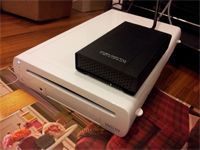 The MiniPro functions best with the USB 3.0 standard, but is thankfully backwards compatible to use the Wii U's archaic USB 2.0 slots. The result is slower transfer speeds, thanks Nintendo. In fairness though, I haven't noticed this slowing down my gaming experience any more than loading games from the Wii U's internal memory.
All in all, the Oyen MiniPro Hard Drive is a great piece of hardware to extend your Wii U's storage space, doing away with the need for "cleaning out the fridge" every time you want to download something. With its little blue light, it's quite a stylish device, I expect it would look even better sat next to a black console.