Angry Birds achievement might take 300 hours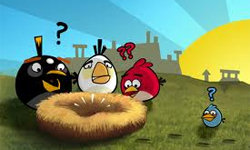 Spanning time
Speaking in a recent interview, Kalle Kaivola the executive producer of Angry Birds Trilogy commented that one of the achievements in the game could take up to 300 hours of gameplay to achieve. The particular achievement involved completing all 700 stages with 100% destruction using the mighty eagle bird.
"I'd love to meet the guy who does that first, I'm just totally going to congratulate them." - Kalle Kaivola
Many people are outraged that the console version of Angry Birds will cost so much more than the smartphone editions, but if you have a lot of free time on your hands, this is an option.