Beyond Good & Evil 2 reconfirmed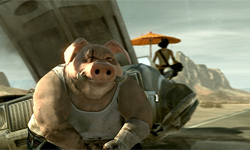 News is still scant
Beyond Good & Evil is a game that some of us hold dear, although not enough of us, if reports of poor sales figures are accurate. Released a decade ago on GameCube and other systems of the time, BG&E told the story of would-be journalist Jade and the resistance movement against sinister alien invaders.
A sequel has been teased for around five years now, but it seems Ubisoft are taking a stop-and-start approach to its development, putting the project on hold to work on Rayman Origins and maybe other things.
In a fresh interview, Ubi's CEO Yves Guillemot has at least stated the following:
I don't give comments anymore on Beyond Good & Evil 2, because I think... the next time next time we communicate we have to have something new.

It's coming.

Yves Guillemot, Ubisoft CEO
That's encouraging, right?