Pilates workout on Wii

Another fitness title is on its way to the Wii, this one is all about Pilates and I'm guessing it's aimed at a womanly audience.
SEGA today announced Daisy Fuentes Pilates, the first Pilates workout program for the Nintendo Wii. Set at a lush tropical resort and hosted by Daisy Fuentes, a longtime Pilates icon and star of the entertainment industry. Created in partnership with Interactive Game Group, the title features customizable workouts, fitness tracking real-time coaching and interactive feedback.
Daisy Fuentes Pilates, the first self-titled Pilates game, goes beyond the one-way, static workouts of traditional DVDs using the Wiimote controls to monitor movements and offer instant feedback, ensuring proper body motion so players get the most from every exercise. Players stay on track following the integrated, on-screen timer as well as the words from Daisy herself, whose voice guides the session.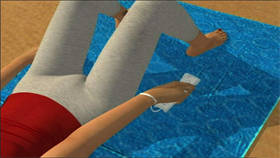 Aye caramba!
Daisy Fuentes Pilates will support the use of Wii's Balance Board, and amigos can choose to play in either English or Spanish. It's coming out this Summer, more screenshots available on the game's page.