Darts Up 3D announced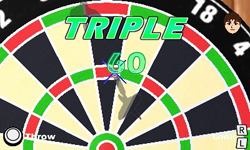 eShop oche action
Julio from EnjoyUp Games has sent us a press release announcing Darts Up 3D - a sports title coming to the 3DS eShop.
You can see the first batch of screenshots on our Darts Up 3D page.
Send the full Darts Up 3D using the "Download Play" option.
4 Players on just one Nintendo 3DS.
Create your own profile using the Mii.
Use the motion sensor to aim and view the surroundings.
Entirely in 3D Stereoscopic.
Three playing modes, including 501!
Darts Up 3D is a fun game of darts in which you will have complete control over aiming thanks to the Nintendo 3DS motion sensor. You can play with your friends and family, up to a maximum of 4 Players, using the Mii to create your profile. Darts Up 3D has several playing modes, including the famous 501.

EnjoyUp Press Release