DDR Hottest Party 3 info

Konami has revealed new details for their latest DDR game on Wii and PS2, Dance Dance Revolution: Hottest Party 3.
Use the Wiimote or the Balance Board to work out to the beat.
Exclusive moves like the Hip Roll and Bump Arrows appear in the game.
Costume customizations taken to the next level, and you can use your Mii.
New modes include Workout Mode, Story Mode, and a special Kids Mode with simpler controls for children to enjoy.
DDR School lessons teach you how to play.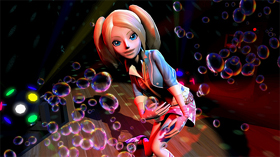 Over 60 tracks will feature in the game too, including the likes of:
Rihanna - Disturbia
Ne-Yo - Closer
Pink - So What
Natasha Bedingfield - Pocketful of Sunshine
Coldplay - Viva La Vida
Juanes - La Camisa Negra
LCD Soundsystem - Daft Punk is Playing at My House
Black Eyed Peas - Let's Get It Started
Dance Dance Revolution: Hottest Party 3 comes out this November, screenshots are up on the game's page.