Catch my DRiiFT

Konami has announced a top-down racer called DRiiFT-Mania for WiiWare. The game has up to 8 players racing around a series of courses on the same screen.
12 tracks (themes are City, Snow, Hills and Oasis).
Single player races.
6 modes of multiplayer.
Customizable vehicles.
Team races.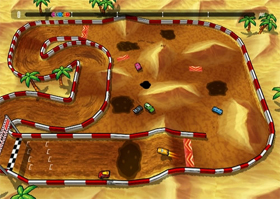 Ivan Ironman's Super Off Road reborn?
DRiiFT-Mania is expect for release in July, screenshots are now up.