Fish plays Pokemon Red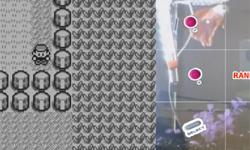 Finally, animals can enjoy gaming
The animal kingdom has a lot to offer when it comes to amazing our minds with their surprising intelligence and their way of life.
Unfortunately, fish have a reputation for forgetting everything after a few seconds and also eating their own poop. However, on streaming website Twitch there has been an interesting development in the Pokemon gameplay department. We have already seen a mass of commands on the TwitchPlaysPokemon videos, so it's now time to let something else do to controlling.
Here we have a Siamese fighting fish, swimming around the tank that has a marked graph of the controls. If the fish swims to the top right of the tank, then the player will go up, and so on and so forth. The fish is already getting its own fanbase with comments like "This **** is so intense", "Needs some Minnows in there" and "R.I.P. Michael Jackson" all supporting the bizarre journey of a gamer fish. It has been mentioned that the fish, named Grayson, has defeated a few Rattatas already.
Check below, if you want some good old aquarium fun.