The Gene Simmons Axe Guitar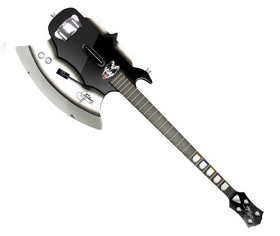 Kobian USA has brought out a new guitar accessory for the Wii, but this is one with a difference. Available on Amazon for $79.99, it's the menacingly shaped Gene Simmons Axe Guitar.
Compatible with both Guitar Hero and Rock Band.
Bi-directional Strum Bar.
Ultra Responsive Fret Buttons.
Analog Whammy Bar.
Holds the Wiimote.