Groove Heaven on eShop this week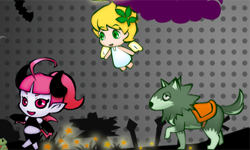 Poles dancin'
In collaboration with Japanese developers FUN UNIT, publishers Teyon from Poland have announced a new game hitting the 3DS eShop this Thursday.
As the name suggests, Groove Heaven is a rhythmic experience. Players assume the role of Rhymi, a demon tasked with delivering a letter to an angel above. Using carefully timed dance moves to avoid hazards, Rhymi must climb to the top of the tower to reach the angel.
You can see a bit of gameplay in the following video:
Dance under leaping frogs and past black crows as you collect musical notes and red roses for bonuses. In two bubbly and exciting modes challenge your musical senses either dancing your way to the top, or simply testing how fast you can keep up with the beat! Show off your rhythmic skills and tap your way to Heaven!

Teyon press release
Groove Heaven comes out on May 23rd, in North America and Europe. A few screenshots are up on the game's page.