Hyrule Historia is the best selling book in the US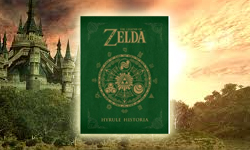 Ocarina of Tome
The Legend of Zelda: Hyrule Historia is a large 272 page book celebrating the rich history of the Zelda games. A collaboration between Dark Horse and Nintendo, it was released over a year ago in Japan. Now it's finally made the translation into the English language and arrived on western shores.
Hyrule Historia is currently #1 on Amazon's best sellers, and their book bloggers have been quick to sing the title's praises:
Today is a great day for video game fans in the United States: after over a year, the fervently anticipated and debated The Legend of Zelda: Hyrule Historia is at last available in English. Originally released in its native language in Japan, the oversized tome - a love letter to Hyrule, the fictional realm where much of the series takes place - was sought after, imported, scanned, and pored over worldwide by fans. At last, here it is in all its translated glory - fret not, Zelda fans. This one is worth all the hype.
Have you picked it up yet?