Layton puzzles on the Nintendo website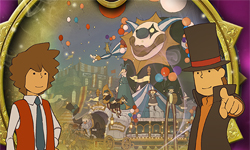 Try them you must
To celebrate the release of Professor Layton and the Miracle Mask on October 26th, Nintendo's official UK website has two demo puzzles from the game that you can try out. They're quite simple, so don't be shy!
Join London's finest on a puzzle-packed new adventure!
Join Professor Layton in his newest adventure exclusively on Nintendo 3DS and Nintendo 3DS XL. Help him to uncover the mystery of the Miracle Mask! Attempt to solve over 150 puzzles to help the Professor stop the Masked Gentleman from terrorizing Monte d'Or. Follow Layton as he delves deeper into his past to help unlock the mysteries of the present, now beautifully animated in 3D.
Professor Layton and Miracle Mask also boasts 365 daily puzzles distributed via the Nintendo Network - one puzzle a day for a whole year from the day of the game's launch.