Zelda minigame with the Zapper

In a press release, Nintendo has officially announced there will be a Zelda mini-game packed in with the Wii Zapper accessory (pictured below).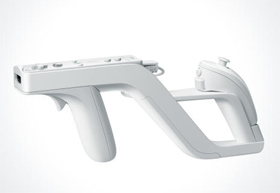 State of the art bang-bang.
The game will be titled Link's Crossbow Training and features Link going through a series of crossbow trials. The tests begin with simple bullseyes and move on to actual moving enemies.
A number of 3rd parties are keen to support the Zapper, games like the following: