Mario Party 8 recalled in the UK

Nintendo of Europe has recalled all Mario Party 8 discs in the UK due to problems. The official statement is:
"Unfortunately we have discovered that a small number of games contain the wrong version of the disk due to an assembly error".
However, rumors going around say that it's because the game contains the word "spastic", which is an offensive term in the UK.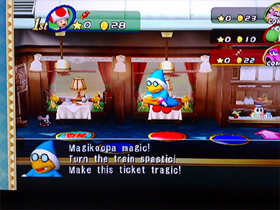 Those crazy spastic trains.
Nintendo hope to relaunch Mario Party 8 in the UK as soon as possible.