Miyamoto thinks we're tired of F-Zero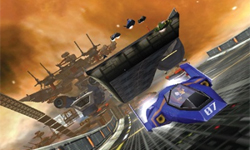 The Falcon weeps tonight
It's been a long time since there was anything new happening in the F-Zero franchise (Nintendo Land mini-games aside perhaps). In an interview with French website Game Kult, Shigeru Miyamoto was asked if there were any plans for a Wii U version:
Game Kult: "After a quick survey on Twitter, one of the games French gamers miss the most is F-Zero. Nobody really understands why Nintendo hasn't made a new one since 2004. Is there a chance we can see it back on Wii U?"
Shigeru Miyamoto: "I am really pleased to hear Twitter's opinion, because since the first episode on SNES many games have been made but the series has evolved very little. I thought people had grown weary of it."
"I'd like to say: Thank you very much and try to wait by playing Nintendo Land's F-Zero mini-game."
"I am also very curious and I'd like to ask those people: Why F-Zero? What do you want that we haven't done before?"
I don't think many F-Zero fans would have expected that response. Do you have any input for Shigsy?