Nintendo Power's final cover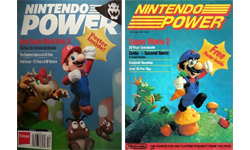 Time to say goodbye
We've known for a while now that Nintendo Power magazine was closing its doors. All the same, it's sad to see this final cover which pays homage to the very first issue of NP with its clay Mario figure.
The final issue will be released on December 11th and promises a thorough look back at 25 years of history, but also an eye on the future of gaming with New Super Mario Bros. U coverage and other Wii U games.
Demand is expected to be high for this last edition, will you be picking it up?