Nintendo UK offering a free 3DS game
If you've already bought a few...
A newsletter sent out by Nintendo to UK gamers is offering a free download code of a major 3DS title.
A selection of 8 games is included in the deal, although you must already have bought 3 of them to qualify for a freebie: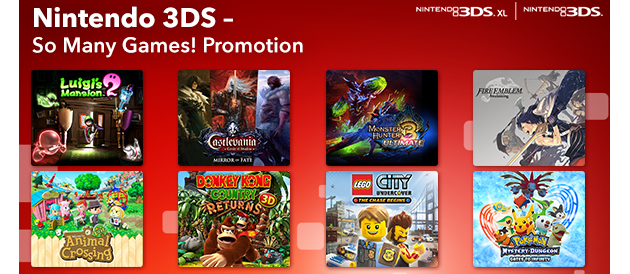 Luigi's Mansion: Dark Moon, Castlevania: Lords of Shadow, Mirror of Fate, Monster Hunter 3 Ultimate, Fire Emblem: Awakening, Animal Crossing: New Leaf, Donkey Kong Country Returns 3D, LEGO City Undercover: The Chase Begins and Pokemon Mystery Dungeon: Gates to Infinity.
Offer valid from 23 April 2013 to 30 June 2013.
Register 3 of the 8 eligible games to your Club Nintendo account.
Choose 1 of the 8 eligible games as your free download version.
Redeem your code on Nintendo eShop via your Nintendo 3DS system.
Download your game and enjoy even more gaming for free!.