Pokken Tournament Just Confirmed by Game Freak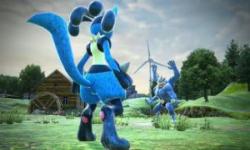 Only confirmed for arcades in Japan so far
One small trailer is all it took. Pokken Tournament was confirmed in a live stream on niconico. The trailer features Lucario and Machamp locked in combat, all in glorious 3D. It seems Bandai Namco has been tapped to develop the title and it is slated for a 2015 release.
Here's the rub though: It's coming to the arcade first, with a console release date yet to be announced. Japanese fighting games often release in arcade cabinets first and are then ported to the home consoles at a later date.
Hopefully we can get a solid home console confirmation and release date in the near future, possibly through a Nintendo Direct.