Mega Man shoes from Puma
Well known sporting goods manufacturer Puma has launched a pair of shoes inspired by the Mega Man character. Dubbed "917 Lo Mega!", these badboys are made from a synthetic leather material which has a shine to it.
Originally released by Capcom in 1987, Mega Man has enjoyed long-running success on a variety of consoles. His latest outing, the challenging Mega Man 9, which I've beaten, was also released to critical success.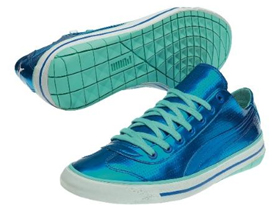 They're available from the official Puma website for a current asking price of $65.