Rabbids on their way home
The latest issue of Nintendo Power magazine reveals details of a new Rabbids game under development by Ubisoft.
It's called Rabbids Go Home, but rather than being a collection of mini-games this one is allegedly a fully fledged action adventure.
The plot sees the rabbids trying to make their way to the moon, having decided that's where home is. They set about collecting as much junk as possible, in order to build a "junk tower" high enough to reach the moon.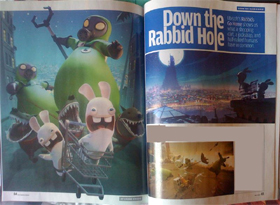 Ubisoft's Michel Ancel is said to be much more involved in the making of Rabbids Go Home than previous titles. Speculation says this could be the last we see of the rabbids.