RCMADIAX bringing Flappy Bird style game to Wii U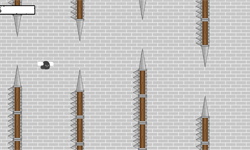 Shiny flappy people
Many people are familiar with Flappy Bird by this point, the addictive game on mobile phones that proved a runaway success for its creator Dong Nguyen.
If you're late to the game, though, or you simply can't get enough of Flappy's simple charm - publisher RCMADIAX is bringing its own spin-off called Spikey Walls to the Wii U eShop.
Taste some of this press release goodness:
SPIKEY WALLS uses the state-of-the-art precision of the Wii U GamePad's physical buttons versus the lag of a mobile devices touch screen. You will enjoy hours of fun trying to score the highest and brag on Miiverse when you're finished each session.
To make it easier to keep track of your highest attempt, RCMADIAX developed an in-house, state-of-the-art, "HIGHSCORE" tracker you can see right on the title screen. "WOW"!
Wow indeed :) You can get Spikey Walls sometime in September or October, for the sensible price of $0.99.