Rewards for Wii U Deluxe owners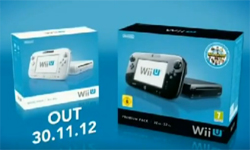 Frisky discounts
The Wii U console hits stores next month in white and black flavors - and they aren't created equally. Aside from the extra internal memory, the deluxe black model gives users a reward program when it comes to downloading from the Nintendo eShop.
All Wii U Deluxe Set owners who purchase digital content for Wii U, including downloadable games in the Nintendo eShop and download codes sold at select retail stores, will earn points with a value equivalent to approximately 10% of the Nintendo eShop list price of each purchase.
For example, a game priced at $59.99 USD, such as New Super Mario Bros. U, would earn 599 points. For every 500 points they earn, participants will receive a code worth $5 in credit to be used in the Nintendo eShop for either Wii U or Nintendo 3DS.
This time-limited rewards scheme runs from launch up until December 31st, 2014. Frequent users of the eShop are sure to see a good saving in that time.