Smash Bros. Wii U & 3DS Playable 25th-27th July in London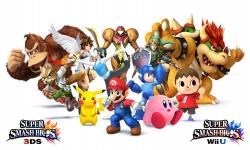 Available to play at Hyper Japan 2014
If you're in London, or more specifically if you're at Hyper Japan on July 25th-27th, then you may have a chance to play Super Smash Bros. for the Wii U or 3DS for the very first time.
As well as other games such as Monster Hunter 4 Ultimate and Tomodachi Life, this is the first time parts of Smash Bros. Wii U and 3DS will be available for the general public to play in the UK.
Go Here for more information on the event.