Tekken Tag 2 download is huge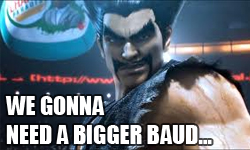 But cheaper...
Publishers Namco Bandai are releasing Wii U's Tekken Tag Tournament 2 on launch day in Japan. The game will be available as both a disc game at retail, and as a download from the eShop.
Interestingly, the eShop game will be cheaper: 6,280 Yen - a saving of 700 Yen over the boxed version. We hope anybody who chooses the download has a decent Internet connection though, as the file size is a staggering 16.7Gb - More than could even fit on the basic white console.