Unepic coming to Wii U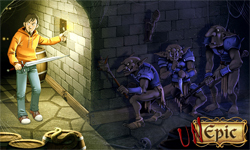 Ambitious indie game for the eShop
Publishers EnjoyUp have sent out a press release saying that Unepic - a platforming, role-playing type game is coming to Wii U.
The game stars (or unstars) a character called Daniel, who is big on gaming, sci-fi movies and smoking. I'll let this trailer tell you the rest:
Unepic is the work of Francisco Tellez de Meneses, who has spent his free time developing the project for the past two years.