Wii U Chat and WaraWara Plaza video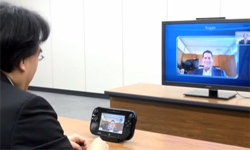 Spend face time with Mii
A lengthy Nintendo Direct was released in Japan revealing a host of new information about the upcoming Wii U console. Being in Japanese, it's difficult for many of us to grasp what was said. Nintendo of America has kindly put out a new video covering the details.
WaraWara Plaza is the new name for Mii Plaza, and is the first thing you see when powering on the console. The little Miis gather around icons which represent games. Comments can be made and read, so social interactions should be more widespread on Wii U.
Also in the video is a charming Wii U Chat between Satoru Iwata and Reggie Fils-Aime, which showcases video chat and an ability to make sketches on the screen while talking. The possibilities are endless.
Both WaraWara Plaza and Wii U Chat can function separately from the TV using just the Game Pad. Here's that video: