Wii U gets microwaved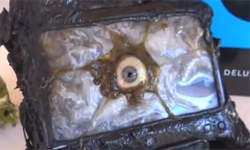 Warranty void
It's safe to say YouTube user dOvetastic has a thing for microwaves. Claiming to be the first, and longest-running 'microwaving entertainment show', not many gadgets escape his fateful radiation.
Recent victims include an iPhone 5 and an iPad Mini, but newest of all is the Wii U console. A deluxe model at that.
Whether it's artistry or insanity is up to you (it might even be both), but the results can be seen below:
As the disclaimer says - don't try any of the above at home (or outside). If you're tempted, at least give Little Inferno a try first.