Wii gets a soaking

This Summer we'll see a new WiiWare game from Hudson, dubbed the "first person soaker" here are the first details of Water Warfare.
Players must go head to head or team up, running around locations like playgrounds and beaches with water guns.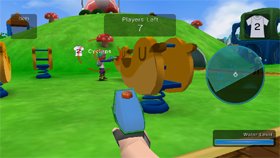 Useful items that can be picked up include:
Raincoats.
Umbrellas.
Towels.
According to the press release, Water Warfare has 8 player online multiplayer. Movement is controlled with the Nunchuk and aiming uses the Wiimote. It's been rated E10+ by the ESRB and so is suitable for most of the family.